Making sweets for the greater good!
Sweets, sweets, glorious sweets, there's nothing quite like them for a delicious treat! So everyone should be able to enjoy sweets in all their diverse and tasty glory regardless of allergies and intolerances. Just because you have to ensure a gluten-free diet doesn't mean you're destined to a life without beautiful sweets, including all the retro sweets that are currently big news. Oh no! With a range of delights from classic Fudge and good old Rhubarb and Custards to Kopp Kopps and Candy Whistles, gluten-free sweets don't mean taste free, but quite the opposite – it screams 'scrumptious'!
Confectionary shouldn't be boring!
For those who haven't a clue what gluten is, it is a protein often found in various foods, most often wheat, barley, rye, malts and triticale. In some cases, it also appears in flavouring, stabilizing or thickening agent as a food additive, often referred to as "dextrin". A gluten-free diet may be the medically accepted treatment for coeliac sufferers and those with a wheat allergy but it shouldn't spell an end to fun when it comes to experimenting with the world of confectionary so when taken the gluten out, we leave the flavour behind!
Whatever your reasons for turning to gluten-free sweets, our confectionary caters for it, so why not try the powerful and distinctive explosion of rich flavour you get from our divine Blackcurrant and Liquorice or enjoy a nostalgic taste trip with a bag of traditional Bubblegum Mega Lollies? Or maybe it's the juicy, fruity appeal of a Pear Drop that you simply can't resist.  Don't worry, we're all suckers for Pear Drops and with our gluten-free version you can afford to polish off the whole bag in one sitting (we won't tell!)
Coeliacs, gluten intolerants,  and anyone shopping or cooking for those with a gluten allergy  may need to be cautious about foods, but should also be aware of the simply fantastic range of flavours waiting to be discovered in the gluten-free sweets family that cater for the condition without compromising on tastes or quality. They're not only safe enough to eat, they're good enough to eat. In fact they're divine!
Created using specific ingredients that avoid gluten, suck on an Everton Mint, have fun with some Fizzers or get stuck in to some delicious Almond Nougat and we guarantee you'll have no complaints when it comes to flavour.
Life can taste fantastic and no one should be denied the rainbow of flavours simply due to a condition or intolerance beyond their control. So shout it from the roof tops and make the world aware – no one needs to live a bland life devoid of flavour and fun. When it comes to all things sweet The Gobstopper's doors are open to all so make sure you stop by soon!
---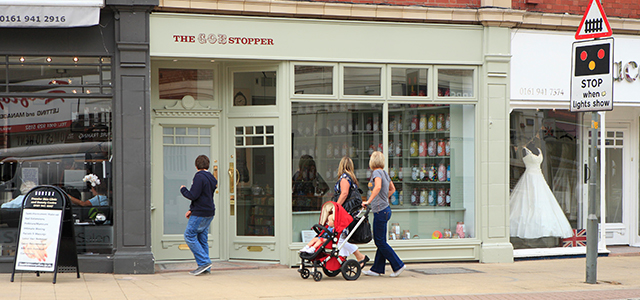 Written For: http://inspiredeats.net/
Copyright @ The Gobstopper
As a proud independent sweets shop, they have brought The Gobstopper to live and created employment in their local area. A firmly family affair, Mark is in charge of numbers, Sean his younger cousin greets villagers and Lisa is the creative mind, and of course their chief tasters in their two sons and we mustn't forget the family pet – Albert the white French Bulldog – who has somehow ended up as the unofficial mascot. Life is sweet!