NYC pizza – a little slice of heaven.  A part of my past? Perhaps, but pizza doesn't have to be!
If you're lucky enough to live in some of the more progressive cities where you can walk into a Pizza restuarant and ask for a gluten free pie, then you can rpobably pick up a frozen GF pie in your local supermarket too, but for those of you who aren't as lucky (and who miss the tasty pleasure of pizza) you can always whip up your own dough at home. While I can't personally eat pizza dough due to following a grain free diet, I have had several people tell me this recipe is a keeper! 
I've also posted an alternate grain free pizza dough recipe which we love, but it doesn't have the consistency of a traditional pizza pie and you can't pick it up. I did list some yummy topping ideas though, so you can head over to this post if you'd like some inspiration for a delish hawaiian style pizza. 
Enjoy!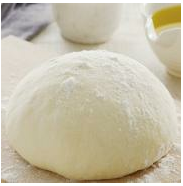 Ingredients
1 Tablespoon yeast (active, dry)
2 Teaspoon sugar
2⁄3 Cup brown rice flour
1⁄2 Cup tapioca flour
2 Teaspoon xanthan gum
3⁄4 Cup rice milk (warm, or warm water)
1⁄2 Teaspoon sea salt
2 Tablespoon oil
2 Teaspoon apple cider vinegar
1 Teaspoon dried oregano
Instructions
Dissolve the yeast and 1tsp sugar into the warm rice milk or water. Leave to sit for 5 minutes.
In a food processor, blend yeast and milk mixture with the flours, xanthan gum, oregano, salt, 1T oil, vinegar and 1 tsp sugar.
Pulse until a ball of very soft dough forms (add more milk 1T at a time if necessary, to make the dough combine).
Line a pizza stone/tray with a sheet of baking paper. Shape the dough into a pizza base shape by pressing down with your hands, using extra rice flour to prevent sticking. Try to make the base as smooth as possible.
Place on the bottom rack of a cold oven and turn the oven to 400F/200C.
Bake for 15 minutes.
Remove from the oven, brush with olive oil.
Top with your desired toppings.
Return to to the oven and bake for another 15 to 20 minutes. Cool for 5 minutes before serving.
Notes
Gluten Free/Casein Free Diet (GF/CF), Vegan, Vegetarian
http://inspiredeats.net/gluten-free-pizza-dough/