Bring on the hot summers, not so cool nights (gotta love our Texas weather!) and we start craving somethin' sweet!  In an effort to avoid the abundance of uber-sweet, sugary ice cone places all around Austin, we prefer to make our own goodies around here.  And this is one of our new faves. 
This is a delicious, refreshing dessert packed with flavor and natural sweetness from the ripe peaches, and with the use of coconut milk and grape juice rather than cow's milk, it remains gluten free, dairy free, vegan and 100% delish! 
Peach Coconut Freeze Dessert (GF, DF)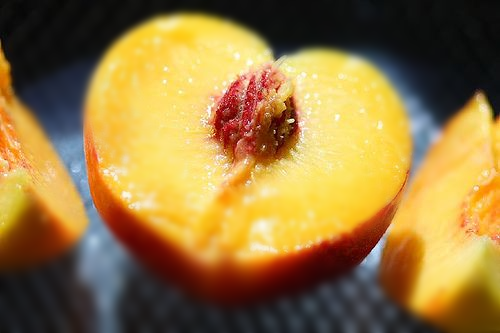 Ingredients
4 large ripe peaches, peeled and finely diced
1/2 cup canned or fresh, coconut milk
1/2 cup unsweetened peach or white grape juice
1/2 cup unsweetened dried or frozen coconut flakes
Instructions
Place diced peached in an airtight container and freeze until solid, at least 4 hours.
Break up any big chunks and transfer peaches to a food processor.
Add coconut milk and juice and process until fairly smooth (a few chunks of peach for textruse is nice).
Spoon into bowls and sprinkle with coconut flakes.
Enjoy!
http://inspiredeats.net/peach-coconut-freeze-dessert-gf-df/