I don't know about you, but one of our challenges around here is getting our son off to school in the morning with a healthy, non processed breakfast without having to wake up an hour ahead of time to do so. 6:30 is plenty early as far as I'm concerned, and should be enough time to get us all out the door with a healthy breakfast, but the reality is I often fall short of that unless I've prepped ahead of time. 
Enter these fabulous little egg muffins we recently discovered! They can be made ahead of time, and stored for 3-4 days, are super easy to reheat and pack a powerful protein punch. Satisfying a Paleo, gluten free, dairy free diet, they're delicious, healthy and convenient.
Perfectly inspired foods for a great start to the day – enjoy!
Paleo, gluten free Egg Muffins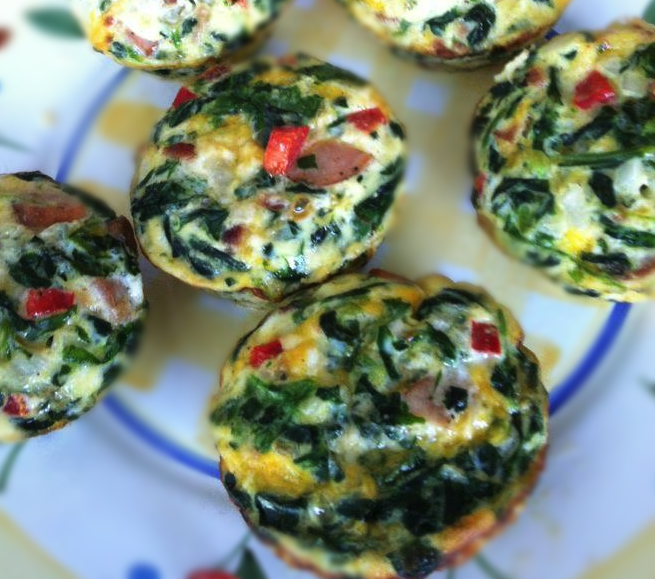 Ingredients
1/4 cup red bell pepper, diced
1/4 cup carrots, grated
1/2 cup fresh spinach, chopped
2 to 3 tablespoons fresh basil, diced
1/2 teaspoon sea salt
1/4 teaspoon fresh ground pepper
10 – 12 pastured eggs
Instructions
Preheat oven to 375 degrees
Grease a 12-cup muffin pan with coconut oil
In a medium bowl, combine red bell pepper, shredded carrots, spinach, and basil
In a large bowl, whisk together eggs, salt and pepper
Add egg mixture to the veggie mixture and stir to combine
Using a measuring cup or a ice cream scoop fill muffin cups with egg mixture being sure not to fill cups to the rim (about 1/4 to 1/3 cup in each cup)
Bake the egg muffins for 20 to 25 minutes or until eggs are set in the middle
Muffins can be stored in an airtight container in the fridge for up to 3 to 4 days
http://inspiredeats.net/paleo-gluten-free-egg-muffins/