For those of us following a grain free (Paleo) diet, missing the morning muffins has been a consistent complaint we've run across.  Many of you have participated in the Paleo Challenge, Whole 30 day challenge, or are following the Primal Blueprint diet. In any case, I constantly run across comments or posts related to the missing of easy breakfast items, especially those with a slight sweet appeal. 
So in a quest for a tasty and healthy muffin option, we ran across this post from Elana's Pantry which not only solved our grain free needs, but as she suggests using coconut oil as well, it's a great heart and brain healthy option too!   In case you have some questions on the value of coconut oil you can head over to our post here and read more about some of the many benefits to coconut oil, not the least of which are aiding and restoring gut integrity. 
No need for modifications here so we are posting this recipe just as we found it – enjoy!
Paleo Banana Walnut Muffins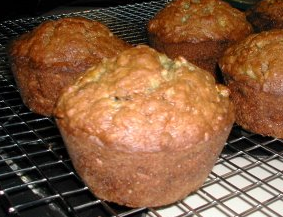 Ingredients
printer friendly
3 eggs
¼ cup coconut oil
2 medium bananas
3 dates, pitted
10 drops stevia
¼ cup coconut flour
¼ teaspoon celtic sea salt
½ teaspoon baking soda
½ cup walnuts, toasted and chopped
Instructions
Place eggs, oil, bananas, dates and stevia in a Vitamix; blend on medium speed until combined
Add in coconut flour, salt and baking soda and blend until smooth
Fold in walnuts
Scoop ¼ cup batter into a lined muffin pan
Bake at 350° for 20-25 minutes (my batch took exactly 23 minutes; all ovens are slightly different)
Cool and serve
http://inspiredeats.net/paleo-banana-walnut-muffins/