While I was away on vacation my latest round of lab tests came back, so while I didn't really indulge in anything that was particularly bad, I did enjoy some corn which I typically avoid. Hey, I was in Mexico! But as it turns out, thanks to some new lab work, I have some new IGG food allergies along with a confirmation of Candida. So while I won't get into those details here (I'll save those details for the health posts!) I am now following a pretty strict diet to rid the candida, along with my standard gluten, grain and dairy free diet.  So, as I was prepping for dinner tonight I wanted some new inspiration on an old dish that I'm allowed to have on this regimen. And since it's such a strict regimen, I'm allowing myself to indulge in some brown rice. Funny that I consider brown rice an indulgence now; boy how my food choices have changed! Anyway, to stay on topic, below is a twist on a dairy free risotto recipe I found on DeliciouslyElla's site. She uses a blend of some spices which are off limit on my candida cleanse, but I've included her full recipe here for you as it sounds amazing, and my modified version was pretty darn good too so I'm sure hers is delish.   As there's no dairy, its naturally vegan friendly, but only good for those following the Primal Blueprint diet as Paleo dieters avoid grains.  Enjoy!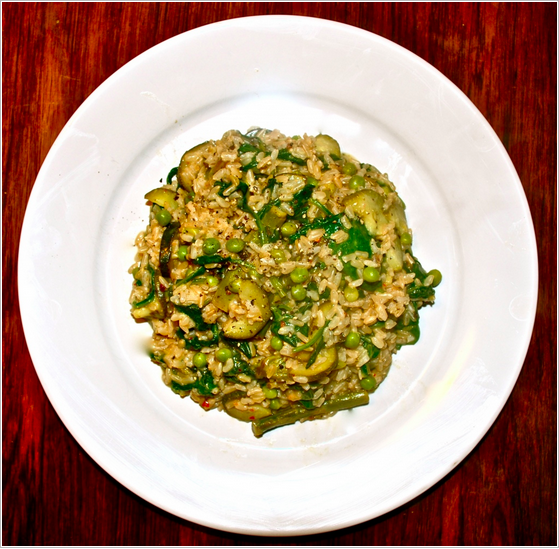 Ingredients
1 1/2 cups of brown rice
1 vegetable stock cube
3 tablespoons of almond butter
3 squeezed lemons
a handful of thyme leaves
a handful of parsley leaves
2 zucchini
20 asparagus stalks
1 cup of peas
1 bag of spinach
Instructions
Melt the stock cube into a litre of boiling water (this will gradually be added to the rice as it cooks).
Place the rice and 1 cup of the stock water into a pan and allow the rice to begin cooking - it should take about 45 minutes to become soft and delicious.
Continue adding the stock water over this time, ensuring that the rice never runs out of water.
Meanwhile slice the asparagus stems in half and the zucchini into quarters and juice the 3 lemons.
Remove the parsley and thyme leaves from their stems and chop into fine pieces.
Once the risotto is about 15 minutes from being cooked add the asparagus, courgettes, lemon and herbs.
Then add the almond butter.
Just before it is ready add the spinach and peas.
Finally, add salt and pepper to taste – a little bit of chilli salt works wonders too for some extra spice.
http://inspiredeats.net/creamy-vegan-risotto/