I'll gladly admit I'm not a great cook. I mean, I can handle the occasional side dish and even dabble with some main dishes that aren't very complicated, but overall my specialty is not in the culinary area. I'm working to change that though, and as my food choices have changed over the last couple of years, so has my appreciation for food, chefs and their insane ability to create yummy, flavorful and satisfying dishes with fresh foods!  So as we have from day 1 here at Inspired Eats, we scour the web and old school cook books for inspiration. And by inspiration I mean simple recipes with ingredients that are readily available and won't scare away the novice (like myself).  
So today we share a recipe for one of our faves: bok choy. A member of the cabbage family, bok choy has been cultivated in China since ancient times and is often referred to as Chinese cabbage, or simply, "white vegetable." Available year-round but hitting peak season during the winter months, bok choy boasts mildly flavored crunchy stalks and leaves resembling cabbage. 
What I personally love about it is its easy to cook with, and you don't have to simmer it for hours to take the bitterness from the leaves, allowing you to enjoy the natural nutritional value and benefits of this yummy leafy green.  And thanks to Paleo Dish for this yummy recipe which is sure to please!
garlic & ginger baby bok choi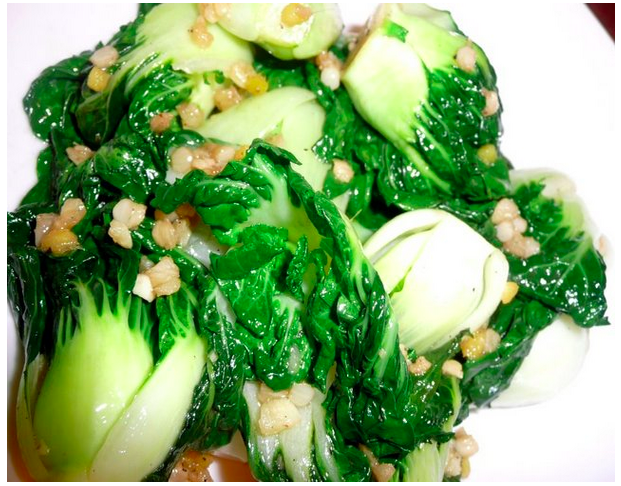 Ingredients
a few tbsp of coconut oil
a few handfuls of baby bok choi (we used probably 4 or so)
a fist of minced garlic (6-8 cloves)
freshly grated ginger (1-2 cm peeled chunk)
ground pepper and sea salt to taste
Instructions
thoroughly wash and rinse baby bok choi
in the meantime, heat coconut oil in a heavy pan on medium heat
once heated, add garlic and ginger and sauté until slightly browned
add bok choi and sauté on low-medium heat
cover and cook for approx 5 minutes (or until sauteed to your liking – keep a close eye, as you do not want to overcook)
garnish with ground pepper and a sprinkle of sea salt
enjoy!
http://inspiredeats.net/garlic-ginger-baby-bok-choi/