This is a great gluten-free, dairy-free sweet casserole option for the holidays!
Using almonds and chia seeds rather than grains, and coconut milk and oil in place of dairy-based ingredients, this is an allergy-free friendly recipe that you can add to your holiday list with confidence that it will satisfy the pickiest (and allergy-free) palette. Since it's rich in sugar, I don't recommend this one on a regular basis but it's a great option for that special menu night.
The original post can be seen here, and the author was happy to let us share it with you.
Enjoy!
Pumpkin Crunch Casserole or Breakfast Pudding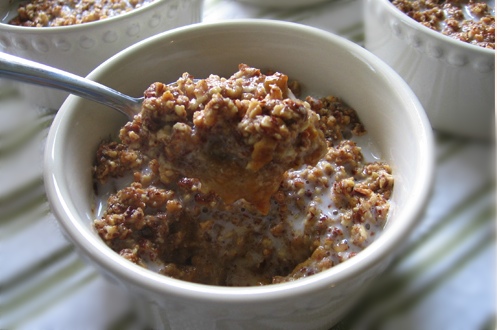 Ingredients
2 tablespoons chia seeds
6 tablespoons water
coconut oil
15 ounces pumpkin puree
1 tablespoon pumpkin pie spice
6 tablespoons sugar
stevia, to taste
1 teaspoon vanilla
2/3 cup ground almonds (preferably already toasted)
2 teaspoons ground cinnamon
3 tablespoons coconut cream concentrate, melted
2/3 cup coconut milk*
Instructions
Preheat oven to 350 degrees F.
Soak chia seeds in water for about 15 minutes, stirring occasionally.
Use coconut oil to coat the inside of 6 8-ounce ramekins.
In medium bowl mix soaked chia seeds, pumpkin puree, pumpkin pie spice, sugar, and vanilla.
Take a tiny taste and add stevia if you want a little more sweetness.
After everything is well incorporated, divide pumpkin mixture evenly among the 6 ramekins.
In small bowl mix ground almonds, cinnamon and coconut cream concentrate.
Sprinkle evenly over the pumpkin mix.
Bake for 25 minutes at 350 using a water bath method.
When almonds are starting to brown, remove from oven and pour coconut milk over top.
Serve warm or cold.
* For the freshest coconut milk make homemade coconut milk.
Notes
Recipe submitted by Joanne, Delmar, DE to Tropical Traditions Shared with permission from Tropical Traditions.
http://inspiredeats.net/gluten-free-dairy-free-pumpkin-crunch-casserole/
Watch the video below on how to make your own Coconut Milk provided by Tropical Traditions.