For those of you who can tolerate nuts, this is a cashew based mock sour cream recipe that's perfectly suited for gluten free, dairy free, vegan and Paleo diets. It has a hint of sourness and its perfect for dipping raw veggies in, as a topper to tacos, enchiladas, or anywhere that you would have used traditional sour cream. 
Enjoy!
Cashew 'Sour Cream' (GF, DF, Paleo, Vegan)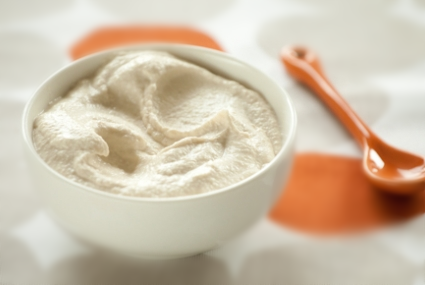 Ingredients
2 cups raw cashews
1 TBSP apple cider vinegar
2 TBSP lemon juice
1/8 teaspoon fine sea salt
1-2 TBSP fresh herbs
Water to thin
Instructions
Place cashews in a cup or small bowl and cover by about 1/2 inch with boiling water.
Let soak 30 - 60 minutes.
Drain cashews, reserving the liquid.
Place cashews in a blender with vinegar, lemon, salt and about 1/4 cup of the soaking liquid.
Blend until very smooth, adding more water as required to purée the mixture.
Notes
0mg cholesterol 60mg sodium 8g carbohydrate (1g dietary fiber, 2g sugar) 5g protein
http://inspiredeats.net/cashew-sour-cream-gf-df-paleo-vegan/