Gluten, grain and egg-free meatballs. Allergy-free & flavor-ful!
Stuck in a dinner rut, trying new grain-free ideas for the New Year or just looking for generally healthier options to an old favorite? I promise this will please even the pickiest of meatball pallets! I love to make these and store leftovers in the fridge for a quick reheat the next day, though this 1 lb recipe doesn't usually leave much room for leftovers, so if that's your goal,  you'll want to kick up the quantities on the recipe below. They work perfectly over spaghetti squash or on top of your fave Gluten-free pasta noodles, are a perfect standalone appetizer, on top of a salad, or as a meal on their own. Since I avoid nightshades, I eat these little guys without any tomato sauce, so I promise you these are delicious on their own – no sauce needed!
The hubs and son prefer these with a homemade pasta sauce, but I tend to toss them on a plate along with some sautéed spinach and a yummy salad (or top the salad with them) and we're all happy campers.  I like to use this recipe to sneak in some mushrooms as they give it a nice flavor and since they're chopped, our son doesn't notice them. Sneaky parents trick 🙂
Note, that this works great for meatloafs too, so you can adapt it for a meatloaf by simply forming it to a loaf pan instead of rolling it into meatballs and follow my instructions here on baking a meatloaf. It's also a great option even if you're avoiding eggs and grain as the apple substitutes for the carbs, and the egg replacer work just as well to hold it together as eggs do. My preferred method is the flax seed method for this recipe, but you can view other egg replacer ideas here.
Enjoy!
Paleo, Gluten & Grain-free Meatballs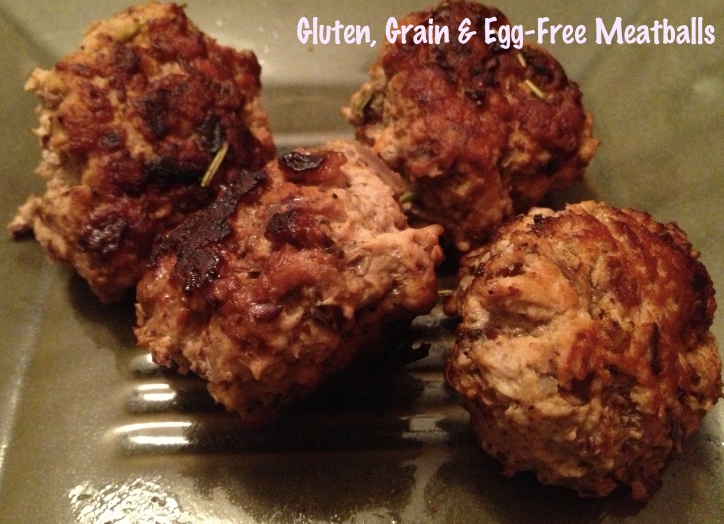 This makes about 8-10 small meatballs
Ingredients
1 lb ground beef or turkey (Organic or grass fed preferred)
1/2 small red apple, diced (skin removed)
1/4 cup chopped onions
1/2 cup chopped mushrooms
1 Tsp chopped garlic
Oregano, salt & pepper to taste
1 large egg or egg replacer
Olive Oil to coat pan
Instructions
Place meat into a medium to large sized mixing bowl.
Preheat iron skillet or electric pan over medium heat.
Whisk egg (or egg replacer) and fold into meat mixture.
Add garlic, onions, apple, mushrooms & spices.
Add oil to pan.
Form meat into small balls, about 2 inches wide, and place into your pan.
Stir meatballs every few minutes to ensure they are full cooked, and browned on all sides (about 10-15 minutes).
Enjoy!
http://inspiredeats.net/paleo-gluten-grain-free-meatballs/