The holidays are upon us, and I have to admit there are few times of the year that challenge my discipline and devotion to healthy, allergy-free living than the Big T. Yep, Thanksgiving.  You see, I grew up in a house filled with warm, fresh-baked cinnamon rolls for breakfast every holiday, followed by a snack of piping hot, fresh bagels, and topped off with a Thanksgiving feast of turkey, traditional breaded stuffing, whipped smashed potatoes and warm, fresh-baked rolls. Yes, we had some veggies too, but they were typically microwaved and covered in a rich cheesy sauce, and our cranberry sauce was a jelly mold that came from a can. So to be honest, I knew very little about preparing a healthy meal.
Fast forward to my present gluten, dairy, grain and sugar-free life and this girl had some catching up to do! So, while I stumbled my way through many burned meals, overly crisp veggies, misuse of oils and generally screwing up just about anything I tried to make, I would have loved to have known about the Real Food cooking class from Nourished Kitchen.  As I do with most things in my new-found healthy life, I stumbled upon Jenny's site thanks to a healthy food group I follow.
Jenny McGruther, founder of Nourished Kitchen is a natural foods cook and Farmer's Market Manager, whose mission is to help teach us all how to eat real food, and she makes it easy and budget-friendly!  Jenny embraces the belief that 'Real Food' doesn't have to be expensive or overwhelming and her 12 week course will help teach you how to prepare healthy, simple and budget-friendly meals for your whole family.
Jenny dishes on how to shop farmers markets to get the most "bang for your buck", how to replace sugars and high fructose corn syrups with healthier alternatives and natural options to replace unhealthy indulgences such as sodas. Jenny will help you by teaching you to develop healthy, real food meals that meet your family's unique needs. Check out her quick video below to learn more about what her classes are designed to teach and how you can learn to cook healthy foods with confidence.
When you sign up for Real Food for the Holidays, you'll receive access to 10 online workshops covering simple, healthy food for the holidays. Learn hands-on cooking techniques using the series' 30 instructional cooking videos and choose from over 175 real food recipes and 30 pre-planned holiday menus. The best part yet? Most of the recipes and menus are suitable for gluten, dairy and grain-free diets!
If you're ahead of me in the cooking game, then you may not be as inclined to take her course, though you're still looking for some tips on prepping healthy meals. If so, check out her Healthy Meal Plans here where Jenny helps you to focus on feeding your family nourishing real foods with ease.  She's put together stunning tried-and-true nutrient-dense recipes, and offers weekly 'real food meal plans' so you can forever end that age old question of  "what's for dinner?"
As the holidays approach, and meal planning tends to create a level of anxiety that can only be matched by making sure I get our Christmas gifts shipped on time, I'm grateful for the many resources I've found to help keep our many food restrictions from keeping a delicious meal on our table. That said, this amazingly simple and delicious roasted tenderloin from Nourished Kitchen is heading up our Thanksgiving Eve meal plan. Yum!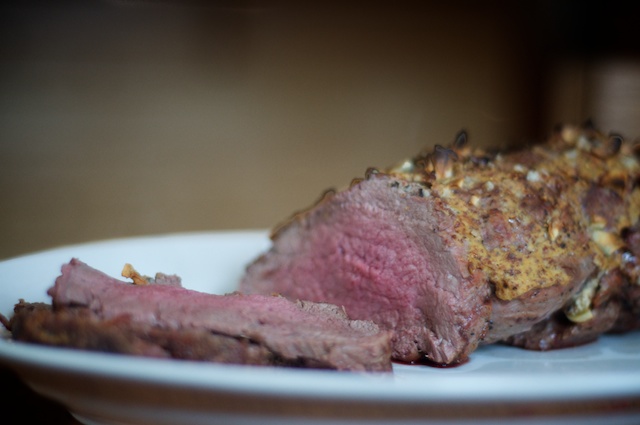 Ingredients
1 whole grass-fed beef tenderloin
1/4 cup pastured bacon fat*
2 tbsps whole grain mustard (gluten-free)
4 cloves chopped garlic
unrefined sea salt
ground black pepper
equipment
• sharp knife
• 100% cotton cooking twine
• cast iron or stainless steel skillet
• baking dish or roasting pan
• tongs
Instructions
Preheat tenderloin at 400 F.
Trim any sinew or hard fat from the tenderloin and cut in half.
Truss the tenderloin to improve even cooking. Then season it with unrefined sea salt and freshly ground black pepper
Heat bacon fat in a skillet until melted. Sear meat on all sides, about three to
four minutes each.
Remove from the skillet and place
in a roasting pan.
Brush with mustard then sprinkle with minced garlic.
Roast for 25 to 45 minutes depending on how well done you like your beef.
Remove tenderloin from oven, tent with foil or parchment paper and allow to rest 10 minutes before carving.
*Substitute butter, pastured lard, grass-fed tallow, ghee or olive oil.
http://inspiredeats.net/how-to-whip-up-healthy-meals-this-holiday-season/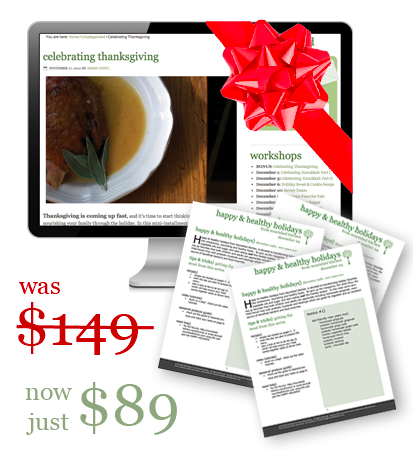 So, if you're thinking this is the right course for you, then head on over there today and take advantage of a 40% savings that Jenny's offering through Wednesday, November 21st. This holiday workshop series is normally priced at $149, but she's offering it for $89 now, so don't miss out on your chance to save some dough (gluten-free of course) 🙂
* disclaimer: if you sign up for the course, I receive a small compensation from Nourished Kitchen