Recently, while browsing the vendors at the weekend farmers market in downtown Austin, I stumbled on a booth run by a super cute lady spewing the health benefits of hemp. She was excitedly telling someone who had stopped to try her samples how hemp changed her life; she went form a high-powered, high stress career to owning Happy Hemp after she realized how raw hemp improved her health. I couldn't help but stop, listening to her tell her story; her excitement was contagious and I wanted to learn more about this tasty little miracle she was calling Happy Hemp.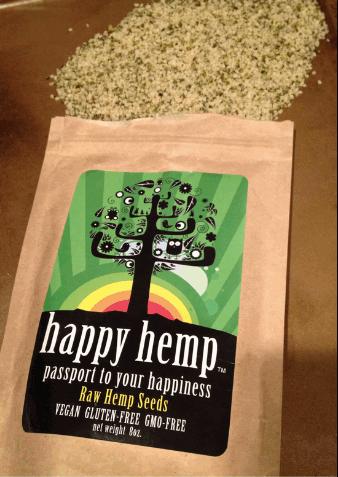 Before I knew what happened, she handed me a sample cup of each of her Hemp products, encouraging me to try both the raw and toasted versions. The first was a raw hemp seed, un-toasted and removed from the shell.  It was a mild tasting, soft seed, similar to quinoa in texture. The second sample was of her toasted hemp seed product, which has a harder shell and a more noticeable flavor, mostly given by the fact that it's toasted. Hemp is mild in flavor, which I figured would make it a perfect complement to smoothies, salads or even as a hidden ingredient in meals.
As I listened to Tara share more of her personal and professional journey, I happily munched on my samples and thought it would be pretty easy to sneak this wholesome snack into my son's foods. Just then, Tara turned to me as if  she knew what I was thinking, and with a big smile she said one of her favorite ways to sneak Happy Hemp into her dad's meals is to put it on top of his burger, just under the cheese, so that even his cheeseburger can pack a healthy punch. Love that idea!
Tara said that starting Happy Hemp was a personal journey of dealing with sickness and the loss of a job, and it's been said that a business built around both a need and a passion are the most likely to succeed.  As Tara states on her site, "my rock bottom was the foundation to start my life's passion project." Tara shares that she had some health issues stemming from a high stress job, and soon discovered the power of food to help her heal. She mentions that her relationship with food  changed, and she was quickly learning that nutrition could heal her fragile health, so she made the journey to help everyone heal (her passion).  She continues to focus on raising awareness of hemp and its many benefits.
Hemp is naturally Gluten-free, Dairy-free, Vegan, Raw, rich in protein and Omegas 3 & 6, as well as many vitamins and essential amino acids. Hemp aids digestion, promotes healthy sleep patterns and encourages healthy hair, nails and skin. You know that raw food glow people mention? Hemp can help you get there.
How to make Happy Hempers…
'Happy Hempers', as Tara likes to call her customers,  are those who have embraced the health benefits and ease of mixing Hemp into their daily lives. So, it seems my family have become Happy Hempers too. In fact, the other day my son was eating a bunch of the Toasted Hemp Seeds, said they remind him of sunflower seeds out of the shell, and asked me to put them in his lunchbox the next day. Gotta love it when your kids crave healthy snacks!
Here are a few of the other uses for Happy Hemp that we recommend:
Salad topers (sprinkle some raw or toasted on your salad, depending on flavor preference)
Mix in smoothies (again, raw or toasted on your salad, depending on flavor preference)
Sprinkle in middle of a sandwich or hamburger
Mix in with scrambled eggs before cooking the egg
Sprinkle into any veggies while you sauté them
As a milk replacement (blend 1 cup hemp seeds with 2-3 cups water, varies by preferred consistency).
Here's a video of Tara showing how to make the hemp milk which she then uses to make a smoothie.
You can head over to Tara's site here for more info on Happy Hemp and where you can purchase it, or to her blog here for some recipe ideas and fun tips for incorporating hemp into your daily routine. Happy Hemp is a passion for Tara, and she keeps her blog updated regularly with tips on how to incorporate Hemp into your life.
As an advocate for the power of food to help us heal, I recommend products that we have tried and enjoy, and I'm happy to share Happy Hemp as an affordable and healthy option!