Breakfast for dinner was always one of my favorite things as a kid.
I loved it when my mom would make scrambled eggs, french toast and bacon for dinner. I'm not sure why it has such a strong appeal, but our son is just as excited about the whole 'breakfast for dinner' thing today as I was 30 years ago.
Though today's French Toast is slightly different from the version I used to eat as a child; if you call egg free, dairy free and gluten-free slightly different from traditional French Toast. Yep, our version today is gluten, dairy and egg-free, so we use a Vegan bread too.
I have to admit I love a good challenge, so I gave this several go's before getting it right.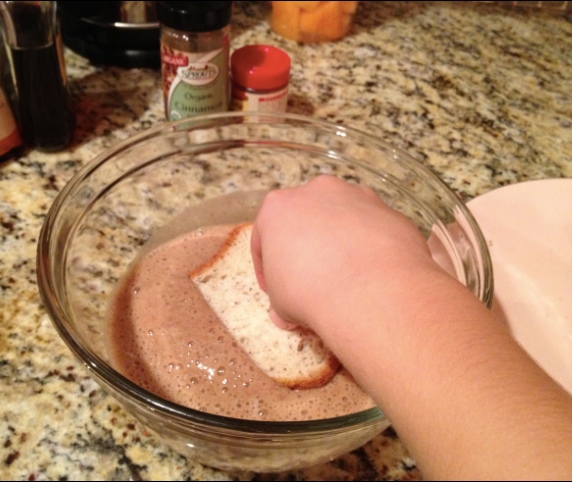 Using banana and either chia or flax seeds help keep the batter thick and it sticks well to the bread, but it also makes it stick to the pan.  So the key is to keep your pan well oiled in between flipping the slices.
Next challenge? Egg, gluten and dairy-free spiced cake. My first attempt was not a big hit, so it was back to the drawing board. At least I got this one right, something I was sure of when I saw my son licking his battered fingers after dipping the slices. He loved the flavor so much that he ate the first slice dry. No syrup needed to make this little guy happy!
Skillet French Toast (Dairy, Egg, Gluten and Nut free)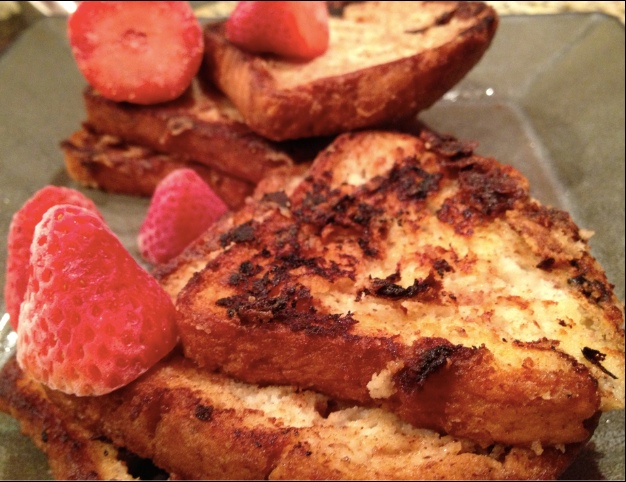 Ingredients
3 ripe bananas
1 Cup dairy-free milk of choice (can be vanilla flavored or sweetened if preferred)
2 Tsp: cinnamon
1/2 Tsp: pumpkin pie spice (optional, but we love it!)
1 Tbsp: vanilla
6-8: slices of gluten free bread of your choice
2 Tbsp: Coconut Oil for skillet (make sure to keep skillet well greased in between batches)
Fruit of choice as toppings (blueberries, strawberries, sliced bananas, blackberries, etc)
1 Tbsp: ground chia seeds or flax meal (optional)
Instructions
Blend bananas, milk, cinnamon, pumpkin pie spice, vanilla, and chia or flax seeds in blender or food processor and pour mixture into wide bowl.
Preheat skillet to medium-high heat.
Gently dip bread slices into the mix, coating both sides well.
Add approx. 1 Tbsp Coconut Oil or Olive Oil to skillet.
Fry coated bread slices in skillet until golden brown, about 2-3 minutes on each side. Be sure to add more oil in between slices as needed to keep skillet well oiled.
The banana makes the bread sticky, so be sure to use enough oil to keep the skillet greased thoroughly.
Service with Organic Maple Syrup and fresh fruit. Sprinkle with powdered sugar if desired.
Enjoy!
Notes
Notes: Chia and Flax seeds add omega 3 fatty acids to the recipe and give it a slightly nutty flavor. You can omit Chia and Flax seeds if you can't tolerate seeds as the banana acts as the binding agent in place of eggs.
http://inspiredeats.net/skillet-french-toast-dairy-egg-gluten-and-nut-free/
Remember, the banana makes the bread sticky so be sure to keep the pan well-greased in between flipping the bread. Also, if you want this to be truly vegan, be sure to use a vegan bread. And save some of the batter from your blender and store it in the fridge overnight for another round of french toast the next day.
Allergy free and easy  – two of my favorite things in life!