I love avocados; can't get enough of 'em really. We eat them on their own, with a dash of salt, or as a complement to meat or fish entrees, as an alternative to cheese in omelettes or tacos and in salads. We also use them for our smoothies to help thicken them up while keeping the texture smooth and creamy.  So when browsing through Whole Foods the other day, I grabbed a recipe card for their Avocado Caprese Salad and was excited to give it a shot. Be sure to omit the dairy (as I did) if you're so inclined – paleo and primal blueprint devotees will want to, as will our lactose intolerant friends. With or without, this was a delish new dish and makes for a great starter. Enjoy!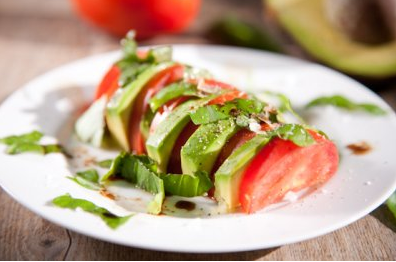 Ingredients
1 ripe avocado, halved, seeded, peeled and cut into 1/4" slices
2 lemons, juiced
8 medium fresh basil leaves
1- 8 oz. container of fresh mozzarella, cut into 1/4" slices
1/4 cup olive oil (suggested lemon scented if available)
3 Tbsp capers, drained
Sea salt to taste
Fresh ground black pepper to taste
Instructions
Place avocado slices in shallow bowl and dress with lemon juice, making sure all slices are coated.
On individual salad plates, layer tomato slice, fresh basil lead, mozzarella slice and avocado slice.
Repeat with a second tomato slice fresh basil leaf, mozzarella slice and avocado slice alongside.
Drizzle with olive oil and sprinkle with capers over all.
Repeat process for each plate.
Season with sale and pepper, to taste.
http://inspiredeats.net/avocado-caprese-salad-gluten-free/