Since we're grain free around here, I don't often enjoy a slice of toast or something equally as fun to put a jam on, however, this is a great complement to meat and fish, and to those of you who are much better bakers than I, it would be perfect on your favorit coconut or almond flour pastries or breads.  
What I love about this jam is the fresh ginger and cilantro which really add depth to the flavor and make for a fresh, not-too-sweet jam.
If only they would have had this at our the restaurant I went to the other night when I ordered grilled pork chops. Since I'm gluten and dairy free, they just added some simple S&P so while it was tasty, it could have used a little help from our Cilantro Apple Jam! 
I think this might be a new addition to our holiday dinners as well 🙂  Enjoy!
Cilantro Apple Jam (Paleo, GF, DF)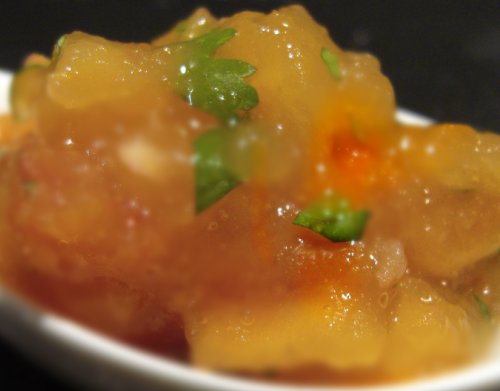 Ingredients
3 Apples (preferably organic, red)
½ cup Apple Juice (or Cider)
Juice of ½ Lemon
¼ c Coconut Crystals/Sugar alternative
1 Tbsp Ginger (fresh)
½ Tbsp Honey
¼ tsp Sea Salt
¼ cup Water + ½ Tbsp Arrowroot powder
¼ cup Cilantro
Instructions
Peel and dice the apples, discarding the core and skins.
Add the apples, cider, lemon, coconut crystals, ginger, honey and sea salt to a saucepan over medium-high heat and cook for about 10 minutes, stirring occasionally.
Turn the heat down to medium-low and simmer for 30-45 minutes or until the apples begin to break down.
Once the mixture is liquid, add the arrowroot powder and stir until thickened.
Remove from heat.
Let cool for 2 minutes, then add the chopped cilantro.
Use immediately or spoon into a jam jar and refrigerate.
http://inspiredeats.net/cilantro-apple-jam-paleo-gf-df/