I'm so excited that my cousin has decided to give the Paleo lifestyle a shot, and from what she's shared with me so far, she's feeling great! It's only been a week for her, but she's made some pretty incredible looking meals which I'll be sharing with you. I knew Rita was great in the kitchen, but I had no idea just how good; check out this tasty Shrimp Salad she whipped up in no time and keep an eye out for more of Rita's Recipes to come. 
How amazing to inspire a loved one to make some great health changes; life's good 🙂 
So here you have it  – Rita's Easy Peasy Shrimp Salad. Grab some frozen shrimp, and make some for dinner tonight!
Rita's Shrimp Salad (Paleo, GF, DF)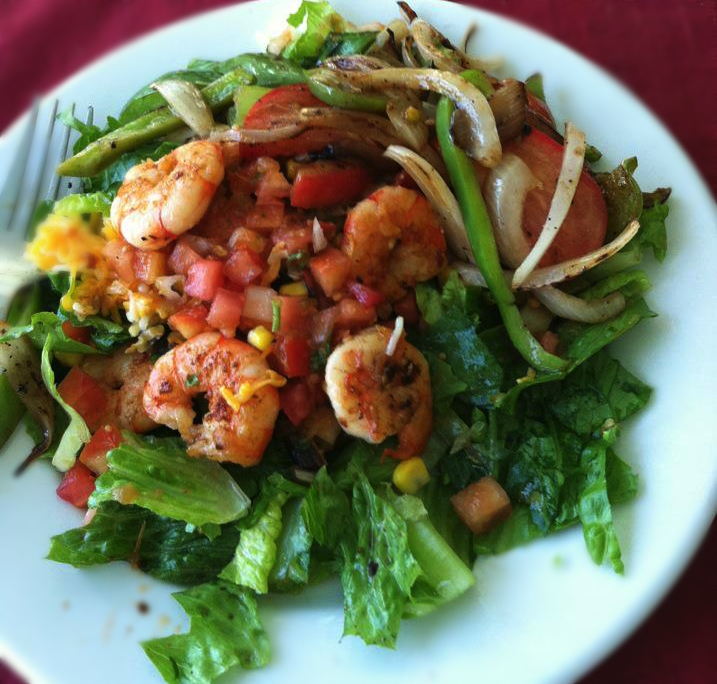 Ingredients
6 frozen or fresh shrimp
1/2 onion sliced lengthwise
1/2 bell pepper sliced lengthwise
2-4 Roma tomatoes
(Can use store bought pico de gallo if preferred)
Lettuce for salad
2 TBSP coconut oil
1 Lemon for season
Salt & Pepper to taste
Olive oil for drizzling on salad
Instructions
Heat skillet over high heat
Thaw frozen shrimp, or prepare fresh shrimp for sautéing
Reduce heat to medium and place shrimp in pan.
Toss with coconut oil
Add sliced onion(leaving a couple slices for pico) and pepper and season with salt & pepper
Cook shrimp & veggies for 8-10 minutes.
In the meantime, prep the salad by placing lettuce on plate and drizzle with EVOO
Cut up Roma tomatoes and dice remaining onion
Cut lemon in half and squeeze 1/2 lemon on tomatoes and onion
Season pico with salt & pepper
Once shrimp and veggies are finished cooking, remove from pan and place on top of salad.
Squeeze remaining half of lemon on top of shrimp
Top with Pico
Enjoy!
Notes
This delicious recipe can be made with either fresh or frozen shrimp and is a quick and satisfying meal!
http://inspiredeats.net/ritas-shrimp-salad-paleo-gf-df/