Yesterday I posted a Gluten-free Key Lime Pie recipe, and no sooner did I get the post live, did my loving friends harass me for posting one that I can't eat myself. Sometimes I feel like my restrictions are hard to follow, and I hesitate sharing recipes which only I can eat because they're more involved than if you're just following a gluten-free diet. And since many of you are simply gluten-free, I always want to make sure to offer you some quick and simple alternatives to the gluten-ful counterparts you've grown to love.
But since I'm not only gluten, dairy and grain free, I'm also egg free, it's harder for me to find recipes that are quick and easy. Not that I mind; in fact, I've grown to love experimenting in the kitchen, and since my son is now old enough to start helping, we're making it a joint adventure to better health.
So in honor of my personal health journey, here's a version of a KeyLime Pie I can actually eat. It's inspired by A Dash of Compassion and adapted from a Vegan 'cheesecake' that I love from our local Vegan joint in Austin, Beets.
In fact, it's very similar to a recipe I made over Thanksgiving for a pumpkin pie that I could eat. Since I didn't spend much time prepping in advance, I'll admit that recipe needs a bit of work, and sadly, I was the only one who seemed to enjoy it. Oh well – back to the drawing board on that one.
Don't worry though- this one won't last long!
Raw Vegan Key Lime "Cheesecake"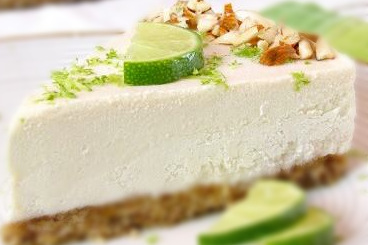 Ingredients
For the crust:
2 cups raw almonds or pecans
2 tbsp unsweetened coconut flakes
1/4 cup date paste (about 1/3 packed cup of whole pitted dates, pureed in the food processor)
1/4 tsp gluten-free vanilla extract
1/4 tsp sea salt
For the key lime filling:
3 cups raw macadamia nuts
1 cup almond or coconut milk
1 cup pure key lime juice
3/4 cup raw agave nectar
1 tsp vanilla extract
3/4 cup coconut oil, melted
Instructions
For the crust:
Using a food processor, process the almonds/pecans and coconut to a coarse meal.
Add the date paste, vanilla and salt and process until well combined.
Press the dough evenly into the bottom of an 8-inch springform pan. Set aside.
For the filling:
Using a food processor, blend the macadamia nuts, almond/coconut milk, key lime juice, agave nectar and vanilla until smooth and creamy, about 3 to 5 minutes.
Pour into the springform pan with the crust.
Gently tap the pan on the counter to remove any air bubbles.
Place the finished cheesecake in the freezer to set, about 2 hours, or until the middle of the cheesecake is firm to the touch.
Decorate with chopped almonds and lime zest before serving.
http://inspiredeats.net/raw-vegan-key-lime-cheesecake/