I like simple dishes that taste exotic. I don't love to spend a ton of time in the kitchen, prepping a  meal that will be done in 20 minutes, only to follow it up with an hour's worth of cleaning. And, I have to admit, I'm a product of the 80's – I grew up on Shake and Bake, so I was never a big Pork Chop fan. That is, until I learned how to make dishes like this one.
Pork Chops are a quick and easy allergy-free meal, that don't need much prep work at all. They cook in less than 10 minutes (for the simplest of recipes just blacken and grill), and if you pair them with the right sides, you've got a 30 minute allergy-free meal plan.  While this meal is a bit more involved than a quick and easy 10 minute version, it's still ready in about 30 minutes, and is a sure-fire way to please the pickiest of palettes. The warm, softened apples and onions give it a nice rich flavor, and our son loves how tender they are.
We make these pretty often, and typically pair them with sautéed spinach, steamed asparagus or a salad, though right about now is when I start craving some mashed cauliflower or squash alongside them. Other great options are Roasted Carrots or a Warm Fig Salad.
With just a hint of spice, and a touch of sweet, these chops are perfectly simple and delicious!
Gluten Free Spiced Pork Chops with apples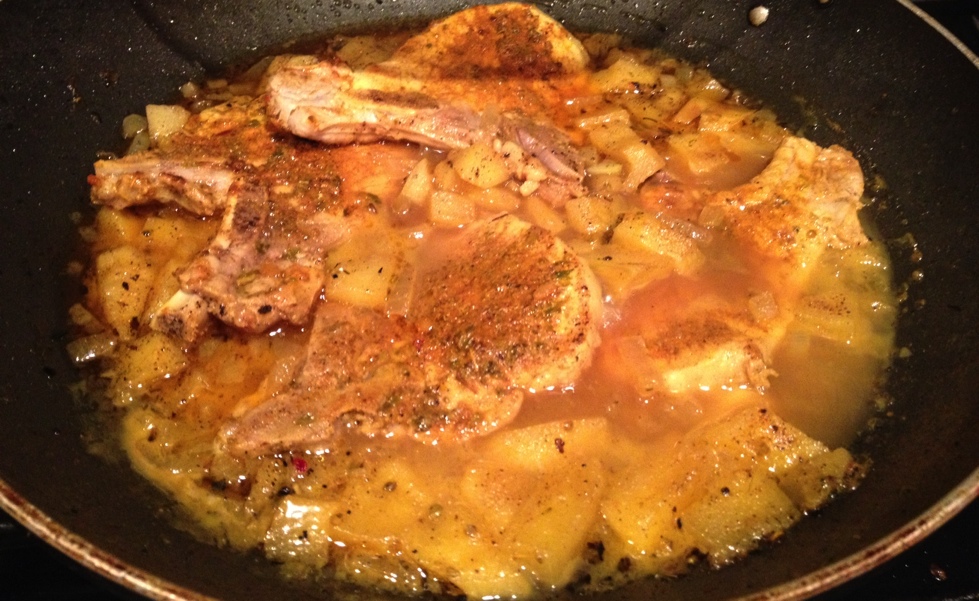 Ingredients
4 bone-in (or substitute boneless) pork chops
1 TB Ghee, butter, coconut or olive oil
1 tsp paprika
1 tsp ground coriander
1 tsp ground cumin
1 tsp chili powder
1 tsp dried oregano
1 cup chicken broth (or apple cider)
2 apples, peeled, cored, and cut into slices
1/2 cup onion, chopped
salt and freshly ground black pepper
Instructions
In a large skillet, heat the fat over medium high heat.
Pat pork chops dry with a paper towel.
Combine the spices together and rub spice mixture on to the pork chops, covering well with seasonings and add to pan.
Sear for 4 minutes each side, until both sides are browned.
Remove pork chops from the pan and set aside on a plate.
Reduce the heat to medium.
Add 1 TB butter or ghee to the pan.
Use a wooden spoon to release browned bits from the bottom of the pan.
Stir in the onions and apples and cook for about 5-8 minutes, until they have softened.
Add the chicken stock or apple cider vinegar to the pan and stir to mix the glaze from the pork chops.
Return the pork chops with their juices to the pan.
Stir them so that they are covered by the apples and onions.
Cover the pan, reduce to medium low heat, and simmer until tender, about 15 minutes.
Transfer the pork chops to a plate.
Notes
Additional notes: if you choose to make a glaze, follow these instructions:
Turn the heat up to medium high after removing the chops and apples, and stir the gravy until it reduces, for about 5 minutes. Cover the pork chops with the sauce, and serve. Enjoy!
http://inspiredeats.net/gluten-free-spiced-pork-chops-with-apples/
What's your favorite side dish for pork chops? Do you change yours by the season like I do?  I'd love to hear what you love – your ideas always inspire me!