This time of year our fridge is packed with foods for Thanksgiving, and our counters tend to spill over with items we'll need to have on hand on Thursday. While I prefer my counters to be clutter-free (my husband thinks I take the whole "neat freak" thing to a new level) I make an exception around the holidays to avoid us rummaging though the pantry like maniacs in search of items that always elude you just when you need them.
In fact, this is a picture I took today of our counter; you can see it's covered with ingredients used for some of our favorite foods for Thanksgiving.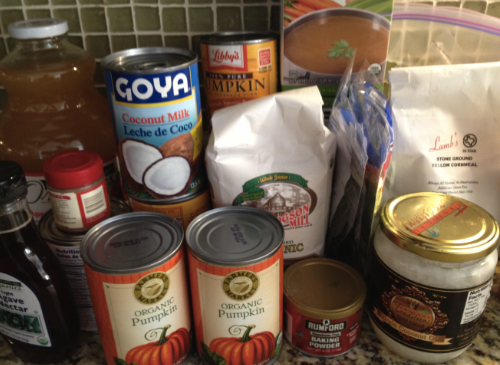 This year our menu will consist of turkey, gluten & dairy free cornbread dressing (aka stuffing), collard greens and a roasted butternut squash soup to start. I'll be posting the recipes throughout the week, but I wanted to share a new favorite breakfast item: gluten, dairy & egg-free pumpkin pancakes. What a perfect way to start turkey day!
This recipe calls for a flax seed and water mixture in place of the eggs, however, like with most egg substitute recipes you can use chia seeds or any other preferred method.
My favorite pumpkin puree to use is from a company called Farmers Market. Their canned pumpkin comes in a BPA free can and is simply pureed pumpkin, so you can prep this tasty little recipe without worry of hidden ingredients that might taint your turkey day. As someone who has several food allergies to watch out for, and follows a grain, egg, dairy fee diet (naturally found myself Paleo when all the allergens were identified) I'm always reading labels to make sure there are no hidden ingredients that will set off either a food allergy or auto-immune response. Both suck and are not at all what you want to start your Thanksgiving day with!
So, here's a fun, delish way to start your turkey day. Worry free foods that taste good, and keep my belly happy. A perfect combo!
Gluten, Dairy & Egg-free Pumpkin Pancakes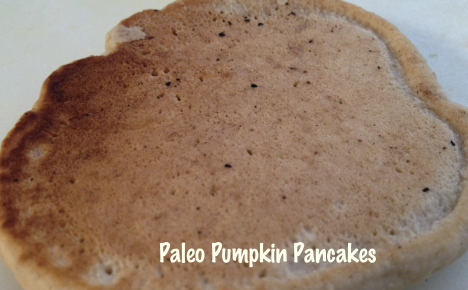 Ingredients
2 Tsp Flax oil mixed with 6 Tsp water (or preferred Egg substitute) Or 2 eggs if not following an egg-free diet
1 Tbsp coconut oil
¼ Cup pumpkin puree
⅛ Tsp cinnamon (more or less to taste)
Ghee, Raw honey or raw maple syrup as desired
Instructions
Warm a pan over medium high heat (cast iron is always preferred)
In a small bowl, whisk together the flax seed and water and set aside for a couple minutes until it sets
In a medium bowl, whisk pumpkin puree and cinnamon
Add coconut oil to the hot pan
Whisk egg replacement mixture in with pumpkin puree
Measure approximately 2 Tbsp of batter for each pancake
Cook until golden on the bottom and slightly opaque in the center and around the edges
Flip, brown on the other side, and serve
http://inspiredeats.net/gluten-dairy-egg-free-pumpkin-pancakes/