For those of you who are eating grains, and particularly those looking for a salty delicious pretzel option that just so happens to be gluten-free, look no further than Glutino's Gluten Free Pretzel Twists. While I can't eat them myself (grain and potato allergies) my husband and son can, and are happy to vouch for their rich, salty, buttery deliciousness.
Sadly, these guys are not corn free, and contain Palm Oil, so I don't recommend you indulge in these often!
And for those parents out there looking for something to slip into your kids lunch boxes that's not laden with sugar, this is a nice option for the occasional treat. Of course, I don't give this to our son everyday since I limit his grains, don't like corn, and believe whole-heartedly that carbs can be just as sugar-ish for our kiddos as a cookie, but I do let him enjoy some now and then.
Glutino Pretzel Twists
These are a favorite of our sons, and my husband says they taste similar to gluten-ful pretzels (though they have a rich buttery flavor). While I can't eat them myself due to other food allergies, I take his word because he's pretty picky when it comes to gluten free stuff 🙂 So go ahead adn pick up a bag and if you shop with Amazon, please use our link here and we will earn a small commission for your order – thanks!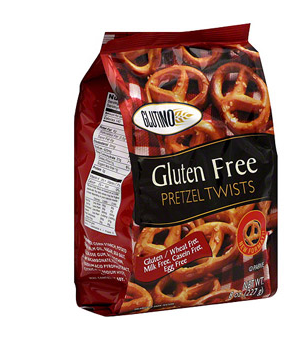 Wheat free
Milk free
Casein free
Egg free
Gluten free
Kosher
Features
Corn starch, potato starch, palm oil, sugar, sea salt, cellulose gum, soy lecithin, sodium bicarbonate, yeast extract, sodium acid pyrophosphate, citric acid, sodium hydroxide