A full serving of daily veggies? Mangia Mangia!
Summt 6 Pasta Sauce: gluten, dairy and soy free pasta sauces that pack more than a day's recommend serving of veggies into these yummy sauces. Now you can eat your pasta (check out their gluten/grain free recipe here to boot!) and feel good about it!
Recently we were contacted by Summit 6, makers of Summit 6 pasta sauces which are veggie-packed pasta sauces. They were kind enough to send over a sample of each of their delish and healthy pasta sauces, and we were happy to dig in and give them a try!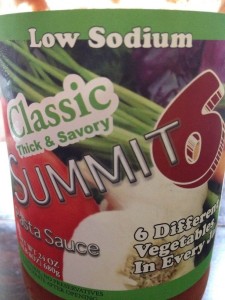 Our review…
Honestly, it's not hard to get my son to eat gluten free pasta, but I do prefer to make my own sauce whenever possible due to the high levels of sugar, HFCS and preservatives often found in the store-bought ones. SO when I was approached by Summt 6 with a request to review their products, I was happy to oblige. They claimed to have found a way to make a healthy, yummy and 'sure-fire way to get our kids to eat their 6 servings of veggies daily' pasta sauce. Bring it on, I thought! 
They were kind enough to send all 3 varieties to us, and we started with the Summt 6 Low Sodium Smooth and Mild sauce.  True to its  name, it  was smooth, but a bit too mild for our taste so we added some spices, and found this to be a good hearty pasta sauce (it also worked well on pizza since it's a mild base).  Once we finished the Smooth and Mild we moved on to the Thick and Savory which had a bit more flavor and kick to it, and needed less help from our own spices. The third version, aptly titled "Spicy" was the biggest hit on it's own, but I should preface that by saying we are a family that loves our heat. That said, I really don't think anyone would complain that its too spicy, and we thoroughly enjoyed it on our pasta and sautéed zucchini. 
All in all, I would suggest the Thick and Savory or Spicy versions over the Mild due to flavor preferences, but the best part was I was able to get my son to eat his veggies without complaining! Kudos to Jennifer Joslin for creating a hearty, healthy, yummy way to get our kiddos to eat their veggies! 
They also passed along a recipe for carb-free pasta which we will add to the site as well.  We will definitely be buying more of these! Thanks Joslin Foods!