When we first learned that I have a gluten sensitivity and would have to eliminate gluten from my diet, we didn't quite realize the full impact this would have on our lives. Truthfully, your first thought is that it's just a few dietary changes. But once you start thinking about the obvious gluten containing foods to cut out, you realize that your life will change dramatically just based on those foods. Then you learn that gluten is also hidden in sauces, condiments, hair and skin products, makeup and more, and reality slowly sinks in that truly being gluten-free means much more than just eliminating pasta, bread and all the other more obvious gluten sources.
By the time we learned our son has inherited the gluten sensitive genes and was also showing signs of a gluten intolerance, we were well on our way to realizing the changes we would have to make to keep our home safe.
From separate utensils to skillets, so long as my husband was still eating gluten-ful items in the kitchen, we needed to keep the items he used to make those foods separate to make sure our son and I weren't at risk of cross contamination.
Cross contamination is the reason many gluten-sensitive folks also avoid fried foods that are made in a fryer that is also used to fry foods with batter. The batter comes off in the oil, leaving traces of breading in the fryer, which can then attach to your seemingly safe french fries.
Here are some of the precautions we take at restaurants to stay safe:
1. Avoid anything fried in a fryer that also houses breaded (or other gluten-ful items)
2. Ask for a clean prep area so you can avoid cross contamination from breadcrumbs on a cutting board, counter or with utensils used to prep gluten-ful ingredients.
3. Skip the sauces and marinades if the kitchen is unsure about the ingredients
4. As for the grill to be wiped down if possible to avoid cross contamination from gluten remains that are also prepped on the same grill
5. When in doubt, opt for a salad with grilled fish or meat and oil & vinegar (salad dressings often have soy sauce or if it's a pre mixed marinade it contain wheat or gluten as well)
And some good ideas to keep in mind to stay safe at home are to buy two versions of foods that tend to be used to spread on breads or crackers. This way you can keep one version that only knives used for gluten-free breads and crackers is dipped into. Trust me, as much as you'd like to think you'll avoid the double dip spread technique, you're going to double dip the knife every time. So stay safe and get two jars of jelly, peanut butter and anything else that you tend to dip and spread.
For those of you who are living in a mixed household, follow these tips from the Gluten Intolerance Group for living GF in a non-gluten-free (NGF) household.
kitchen hardware: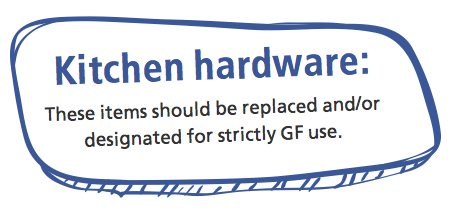 Cutting boards (plastic or wood).
Due to cuts and grooves that can develop in these items, it's best to get new ones to designate for GF use only.
Baking sheets and pans.
Baking sheets and pans often develop cuts and grooves. For baking sheets,
one option is to use parchment paper with existing pans when baking GF cookies. To simplify matters and to ensure safety, consider having separate GF designated baking sheets and pans for all GF baking.
Non-stick pots and pans
If there are any cuts or scratches in the surface of an item, it needs replacing.
Stay clean.
Start by giving the kitchen a thorough cleaning. Pull everything out of the fridge, cupboards, cabinets, and drawers and wash things down with warm soapy water.
In a NGF household, you'll have to do this regularly.
Organize and Segregate.
Create designated shelves, drawers, and cupboards specifically for GF foods and for NGF foods. If they're sharing pantry space, place GF foods inside sealable containers and put them above the gluten-containing items.
Dedicate kitchen hardware.
Get duplicates of all kitchen tools that could harbor gluten. Mark all GF items in red.
Toasters.
If you've ever toasted gluten-containing products in it, get yourself a new one and mark it clearly. (For toaster ovens, see if you can purchase another rack for it.)
Colanders, strainers, and flour sifters.
Since pastas and gluten often get stuck in the small holes and slits, cleaning them fully is problematic if not impossible. Have separate items for GF foods. Wooden utensils, boards, rolling pins – porous items can harbor gluten.
Here are some resources we like to help keep items clearly labeled:
Gluten-free stickers (you can check out these from Glutenfreelabels.com for some oven and dishwasher safe tags as well as handy little stickers to use on foods such as peanut butter jars, jellies, etc so you know which ones won't have a gluten-ful knife dipped in it.
How do you keep your kitchen (and life) gluten-free and safe? I'd love to hear some of your tips in the comments below!