We're big fans of Coconut Oil, and use it as a skin salve, lotion, hair conditioner, and in most all of our high heat cooking. There are so many amazing health benefits to Coconut Oil, and I've compiled many of them in a post you can read here.
Our favorite brand is Tropical Traditions and we love the safe products this company makes. While I have the best of intentions of one day making all our own cleaning products, the reality is I'm better at sourcing safe products for our family that someone else has made with care and dedication to safe, non toxic products. And while I don't mind paying for good quality products, I also love a bargain whenever I can find one!
So if you're like me, you'll love Tropical Traditions. Every week, Tropical Traditions offers some amazing deals, and this week they're offering their Organic Virgin Coconut Oil for FREE with purchase! Check out the list of savings below and click the image to head over to their site to shop. We use their Coconut Oil, Dish Soap and lotions and love their grass fed meats.
Weekly Specials: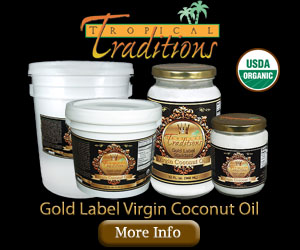 FREE Shipping Coupon – One Day Only – TODAY!
To take advantage of this special, you MUST enter coupon code 183313 in your cart before checking out and choose either Ground or SmartPost from the drop down list of shipping options! FREE shipping is NOT applied automatically.
FREE Organic Gold Label Virgin Coconut Oil (Pints) Ends Thursday
40% OFF Grass-fed Beef Top Round Steak
40% OFF Organic Moisturizing Lotions
50% OFF Benefect Botanical Hand Sanitizer
NEW PRODUCT: Organic Fair Trade Cocoa Powder
If you love their products, please comment below so we can be sure to try the ones you love too!