Nine years ago I was pregnant with my son, and I was naive enough to listen to the doctors about what was best for my health and the health of my baby. He was born a bit premature, colicky and never slept through the night (at least, not until he was almost 4). He has food sensitivities that he inherited from me, which were not diagnosed in me until 4 years ago, so it's safe to say that both mom and baby had some undesirable health issues going on.
Fortunately today I'm a bit wiser about my health, and use natural solutions for products that I used to readily grab from the shelves. We make our own cleaning products, and/or buy green versions from Whole Foods. We shun plastic as much as possible, and avoid GM foods. And while there's always more to learn, I'm happy with the steps we've made so far.
We're talking about having another baby recently, but I've been nervous about both the baby's and my health. How could I prepare myself so I can have a healthy and happy pregnancy? And what can I do to make sure my baby is as healthy as possible?
While I know quite a bit about food allergies, and how to manage life with food allergies and food allergic children, I'm relatively new to the life of natural living and am definitely looking for help with how to have the healthiest pregnancy possible.
So I was thrilled to learn that Kristen from Food Renegade was writing a book about having a healthy pregnancy that addresses getting your body ready for a healthy pregnancy, and helps with natural solutions for some of the little hiccups that occur along the beautiful journey of pregnancy.  She's been blogging about healthy living for years now, and she's a pro at the ins and outs of natural living solutions. She's  a nutrition & wellness coach, and a passionate advocate for "real food".
I admire Kristen's desire to educate us on healthier living through her own personal journeys and her willingness to share her knowledge as a nutrition and wellness coach with us for free. Her book will be an instant classic for those looking for a healthy pregnancy, safe and natural delivery and a healthy and happy baby.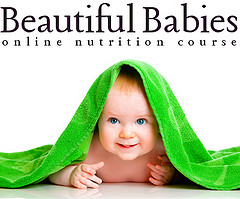 And if you hurry, you can pre-order her book  Beautiful Babies from Amazon by March 18th will ALSO receive a free enrollment in her Beautiful Babies Online Nutrition Course (a $199 value)!
Here's some of what you can learn in the online course:
Are you struggling to get pregnant?
Do you want to know how to avoid morning sickness?
Do you want your child to never have an ear infection?
Do you want a beautiful birth?
You can find out more about Kristen's e-course here, and if you do pick up a copy of her book, be sure to follow the instructions below to get your free enrollment in her Beautiful Babies Online Nutrition Course.
To receive their free enrollment, customers must email Kristen a copy of their Amazon sales receipt to. When she verifies your purchase, she will email you a coupon code for the free enrollment!

Here's what others are saying about Kristen's book:
Joel Salatin — a hero of the sustainable food movement (who also wrote the book's foreword!) — said this about it:
"I find Kristen's feisty spirit and mischievous humor both empowering and liberating. As a dad of two, husband of one, and grandfather of three, I covet these historically proven and normal principles for every family on earth. I wish this book had been around when my wife, Teresa, and I were starting our family."
Dr. Jill Tieman, a doctor of chiropractic care and a clinical nutritionist said this about it:
"Before civilization, humans once had an innate intelligence about what was edible in their environment and how to prepare it in order to extract the most nutrition from it. Kristen Michaelis walks you through the minefield of conventional nutrition babble to the safety of what thousands of years of cultural traditions have shown: that vibrant health comes from eating what our ancestors ate—unprocessed foods from animals raised as they are supposed to live. This is correct nutrition that needs to be taught in every household and school and handed down from parents to children. This book should be required reading for all parents and those contemplating parenthood."
Dr. Cate Shanahan, author of Deep Nutrition: Why Your Genes Need Traditional Food, said this about it:
"Kristen Michaelis can help rescue your child from the quagmire of unhealthy baby formulas, cereals, and jarred foods and teach you how to implement a nourishing lifestyle that is your child's best immunization against illness. I see many happy babies growing up on these kinds of real foods, and I would like to see more."
So hurry and preorder your copy here today so you can get the Beautiful Babies Online Nutrition Course (a $199 value) for FREE! Who doesn't love freebies? I know I do 🙂
And if you want to try your luck at winning a FREE copy of the Beautiful Babies book (no access to the free online course with this giveaway) you can enter using the widget below.
Please share your comments on the book once you get your copy with us below, and good luck in your pregnancy journey!