When you're avoiding grains, it's common to find yourself in a side dish-rutt (I know this from experience!) Ours tend to be spinach, asparagus and green beans. And while the hubs makes an amazing simmered green beans dish I'll share with you soon, even they can seem dull at times. So to shake things up a bit, I like to rotate in a raw dish that feels a lot more complicated than it is. A paleo, raw gluten and dairy-free coleslaw that doesn't use an ounce of eggs or mayo, but has a delicious creamy and not-too-vinegary flavor.
If you don't eat much cabbage, I would definitely encourage you to start slipping it in here and there. Some of the many health benefits of cabbage include ease of constipation, stomach ulcers, headaches, excess weight, skin disorders, eczema, jaundice, rheumatism, arthritis, gout, eye disorders, heart diseases, aging and Alzheimer's disease. Pretty amazing, right?
What I love about this recipe is it also lets me sneak in some healthy carrots and apples, and since we julienne the veggies the kiddos don't seem to notice that they're eating something healthy. I love sneaky little tips! If you don't yet have a julienne peeler, you can start off with a basic one from Oxo like this which we use. It's perfect for slicing some veggies to sneak into salads and on top of roared fish or poultry dishes, pastas and more.
As for the recipe, here's my simple and quick Raw, Paleo Coleslaw – enjoy!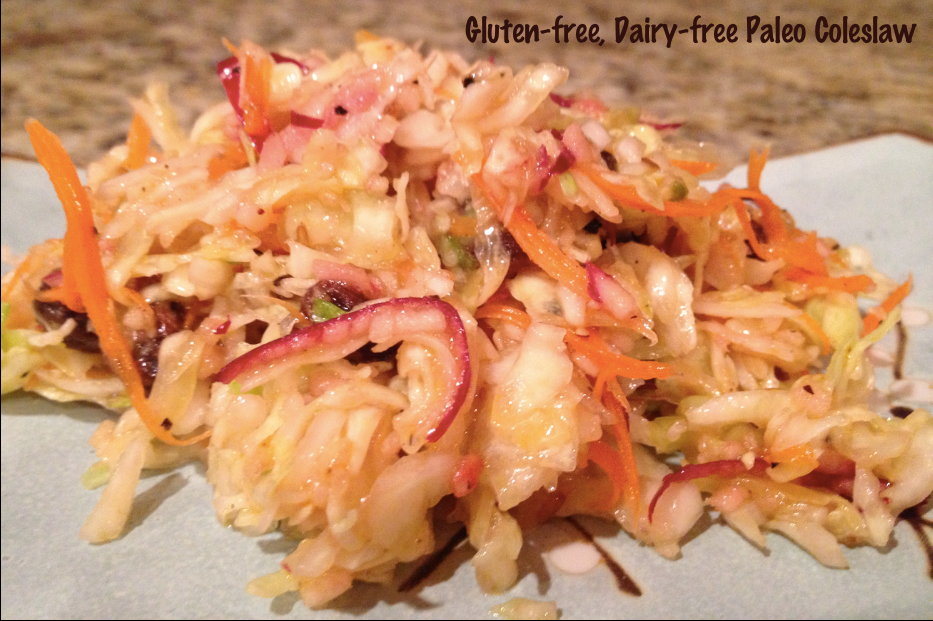 Raw gluten-free, dairy-free coleslaw (Paleo)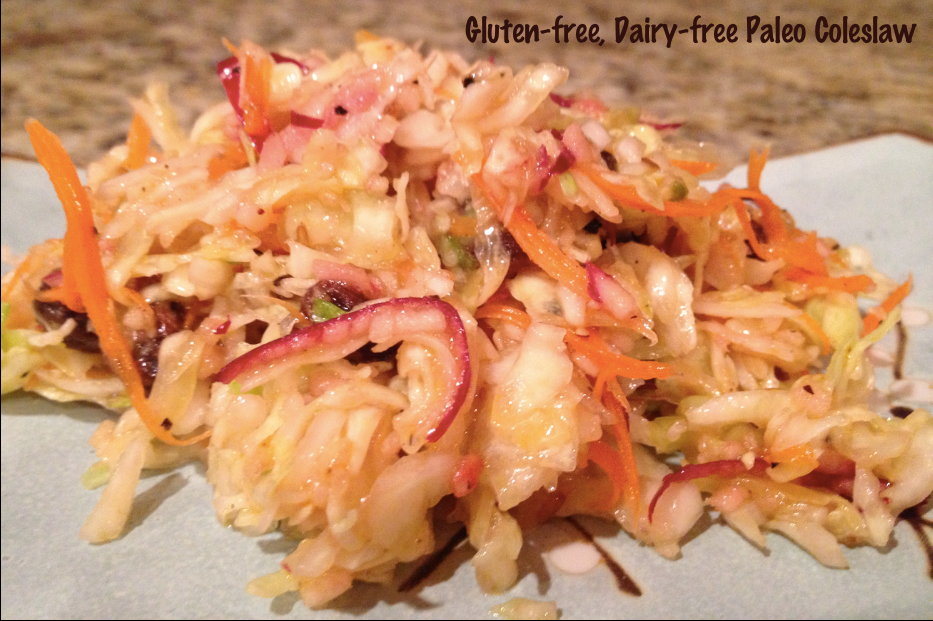 Ingredients
2 heaping cups chilled cabbage - green and purple, shredded thin (prepared bags from the store work great too!)
1 apple, peeled, julienned
1 carrot, julienned
Half a small red onion, sliced thin
1/4 cup golden raisins or dried cranberries
3-4 tablespoons light extra virgin olive oil, as needed
1 tablespoon apple cider vinegar, to taste
1-2 teaspoons organic raw agave nectar, to taste
1/2 teaspoon caraway seeds
1/2 teaspoon dill
A small pinch of cumin
Sea salt and fresh ground pepper, to taste
Instructions
Toss the shredded cabbage, apple, carrot, red onion and golden raisins into a large bowl and stir to mix.
Drizzle with the olive oil, making sure to use enough just to coat the cabbage.
Sprinkle cabbage mixture with vinegar, agave nectar, caraway, dill, cumin, sea salt and pepper, to taste.
Toss to coat.
Serve immediately.
http://inspiredeats.net/gluten-free-dairy-free-coleslaw/