And for the third installment today on my Juice focus, I've chosen one that I leave for those cheat days when I'm ok loading up on fruits because there aren't any greens to help balance the sugar spike. That said, this is a great recipe packed with powerful antioxidants, and so long as you indulge now and then on a treat like this, your body can handle the insulin spike with ease, and by adding a nut butter to add some protein and fiber, you can help balance the effects of the fruits. 
Enjoy!
Antioxidants Supreme Juice recipe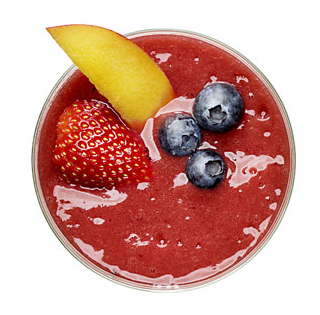 Ingredients
Handful of blueberries
Handful of strawberries
Handful of mangos
1 TBSP nut butter of choice
1 TBSP coconut oil
1 cup Water plus extra for desired consistency
Instructions
Blend all ingredients in blender, adding more water as needed for desired consistency.
Notes
Note: to increase thickness to a smoothie consistency, add 1/2 cup Greek Yogurt or about 1 cup of ice and Dairy-free Milk of choice. Other great options are to add 1 banana or 1 whole avocado.
http://inspiredeats.net/antioxidants-supreme-juice-recipe/
Antioxidant Supreme
Antioxidants in berries boast potent anti-aging benefits.
Ingredients: Blueberries, strawberries, mango
Calories: 151