I have to admit, I love being caught off guard; to be surprised by a genuinely honest action, a compassionate gesture, or the beauty of a pure soul. So it was with complete pleasure that I learned about Talia Leman today, a 17 year old high school senior, who at the young age of 10 decided she had to help the victims of one of the most devastating hurricanes in America's history.
Hurricane Katrina left millions in New Orleans devastated, and Talia felt compelled to do something to help. So she rallied thousands of students in the U.S. to raise over $10 million to contribute to the survivors and victims of Hurricane Katrina. And she did this at the age of 10.
Watch her on the Today Show below:
Visit NBCNews.com for breaking news, world news, and news about the economy
There are so many platforms to create change these days, yet I can't  help but be amazed by her compassion, drive and dedication and admire her desire to lead that movement of change. And while her feet of raising more than $10 million for Katrina victims goes far beyond what most of us would ever dream of accomplishing in a lifetime, she wasn't content to stop there. Now the high school student and founder of RandomKid has written a moving memoir titled "A Random Book about the Power of ANYone." And she aims to help spread the word about how everyone of us can help touch the lives of those in need.
Here's an excerpt from her book: 
Trust me when I say I never meant for this to happen. At the time, I was only trying to get through the fifth grade.
But it did.
This is a story about the power of ANYone.
It's about a random kid who believes we can do anything we want in life, like not eat cottage cheese. A kid who loves science, but goes into a fog over the details of history. A kid who is a clumsy, offbeat dancer and a clumsy, offbeat speller, but who believes that clumsy is no reason not to dance and write anyway. A kid who got other kids to band together for a single cause and rivaled our giving power with top U.S. corporations. A kid who constantly gets in trouble for talking at school, but now gets asked to talk — all over the world.
And that kid is me. My name is Talia. I'm a random kid and this isn't just my story.
It's our story.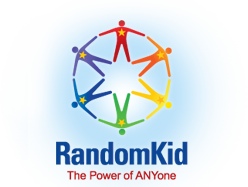 Impressed yet?
And as for randomkid.org, this is a site I'll be reviewing with our son this weekend. Here's a snippet from their mission:
On this site you will find everything you need to be successful for anything that inspires you in your efforts to help others–  from collecting funds, to collecting stuff, to collecting signatures from needing a 501C3 umbrella, to seed funds, to a private or public web page, to rallying others around your cause.
Seriously – she's 17 folks! I'm inspired by her, and her drive to help others, and I can't wait to explore randomkids more. As you probably know, I am all about living Inspired, and I think Talia Leman is the sheer definition of what it is to live your life Inspired.
Read more about Talia and Randomkids here – you'll be glad you did!