Recently I was meeting a client for coffee, and since I forgot my own Coconut Milk, I was left to choose from black coffee or hot tea. Since I love Green Tea, I wasn't upset at forgetting my own milk (which I tend to travel with all the time) but just as I got up to the counter, I saw a sign for Hot Spiced Cider. And since I had already had a cup of Joe at home before heading out, I figured I could skip the caffeine and indulge in a warm apple cider. And I'm so glad I did. I sipped my cider through the meeting, enjoying every not-too-sweet, slightly spiced sip, and I came home afterwards intent to recreate it.
So, after a few close, but not quite the same batches, I finally found one that resembles the warm, slightly sweet, slightly spiced flavor I enjoyed that day. It's super easy to make and you can play with the batch sizes to suit your needs. And as with most things we make, we love leftovers, so have some mason jars on hand and simply pour your leftovers into a slightly warm pan and reheat on low.
I've tested recipes using whole apples, soaked in water, with or without the OJ and using whole cinnamon sticks wrapped in cheese cloth, but to be honest, this one is just as good and takes half the time and effort. Which leaves me more time to spend with the fam, sipping cider around the fire outside. Oh, and it pairs really well with a touch of brandy too 🙂
Enjoy!
Homemade Spiced Apple Cider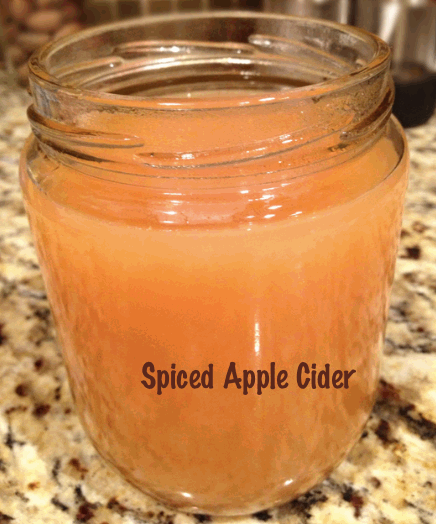 Ingredients
2 Cups Orange Juice
3 Cups Apple Cider
2 Tablespoons ground cinnamon
1 Teaspoon whole cloves
1 Teaspoon ground allspice
Orange slices for decoration
Instructions
Pour Orange Juice and Apple Cider into a medium sauce pan over low heat.
Stir occasionally, and add cinnamon, cloves and allspice.
Increase heat to medium and leave for 7-10 minutes so the flavors mingle.
Reduce heat to low and let simmer for another 10-15 minutes.
Pour immediately into heat proof glass, and add orange slice to each glass.
Let remaining cider cool and store in heat proof glass containers.
Cider will store for 5-7 days.
http://inspiredeats.net/homemade-spiced-apple-cider/