Thanks to the amazing team at Bulu Box, we can now offer all new members a FREE Bulubox!
BuluBox is a monthly subscription that offers you a chance to sample various healthy supplements before you buy them. And Bulubox has offered an exciting opportunity for InspiredEats readers – all new Bulubox members can enjoy their first month's box for FREE, plus you can register below for a chance to win 3 month's FREE!
From Vitamin A to Vitamin Zinc and everything in between, and featuring brands like SafSlim, Green Tea Hawaii, Pure Matters, ANS Performance, and many more, each Bulu Box is an opportunity to discover a better, healthier you.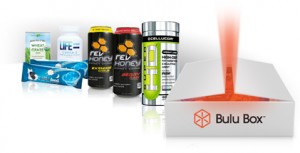 With Bulu Box, you can try 4-5 products each month, having an opportunity to try them before you buy the full sized product.
Ready to enjoy it for FREE now? Head over to Bulubox for a FREE box on us today!
Bulu Box memberships are $10 monthly, however, we're excited to offer your first box FREE with the promo code: INSPIRED at checkout. Simply head over to Bulubox now and upon checkout, enter Coupon Code "INSPIRED" to get your first month FREE!
You will have to register for the monthly program and input your credit card details, however, you will NOT be charged unless you choose to stay on and receive your second Bulu Box at only $10 per month.
Sadly, the contest is over, but you can still enjoy a FREE box when you sign up today. Head on over now and get healthy folks! 
Yep, not only can you enjoy 1 month FREE with all new memberships,  you can also enter to win a FREE 3 month subscription Bulu Box. Read more and register for your chance to win 3 months FREE Bulu Boxes below!
You can also enter for a chance to win 3 months FREE Bulu Boxes.
Register below for a chance to win 3 Months of FREE Bulu Boxes!
Good luck!